Quality & Safety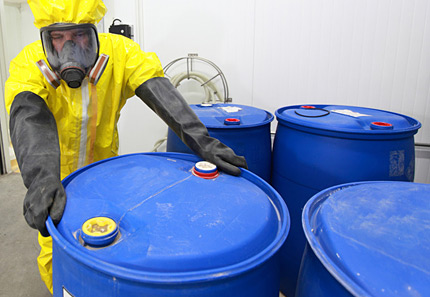 Slack Chemical believes that quality, service and safety go hand in hand. Slack Chemical not only meets federal, state and municipal regulations, we far exceed the standards in many areas. The chemicals we store, blend, package and distribute can present hazards to personnel and the environment if not transported or handled properly. Our philosophy of total safety management will continue to result in improvements to personal safety and the environment.
We continuously re-evaluate our operation to improve:
Security Systems
Employee Safety & Hazardous Materials Training
Equipment Inspections, Tests and Maintenance
We continually evaluate employee safety and quality suggestions to provide the highest quality products in the safest manner. In addition, Slack Chemical has a First Responder Hazmat Team and an Employee Safety Committee, helping us to achieve an Insurance Experience Modification Rate of below one. Safety and chemical training is available for our customers upon request.
Slack Chemical also has a modern laboratory well suited for testing and formulations. Our quality assurance program is second to none. Certificates of Analysis are provided with every shipment.
Slack Chemical is ISO 9001:2015 Registered and our quality policy supports our objectives:
To furnish a quality product to our customers
Customer Satisfaction
Continuous Improvements